View All News
BTPS Pink Shirt Day T-Shirt Logo Design Contest - Order Information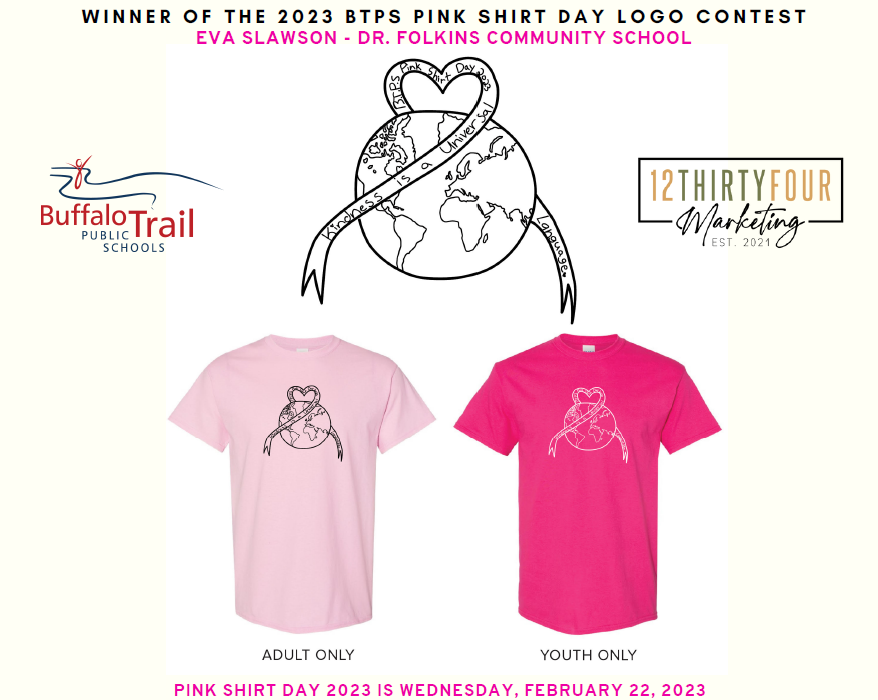 BTPS Official Pink Shirt Day 2023 T-Shirts
Dr. Folkins Community School's Grade 9 student, Eva Slawson, is the winner of BTPS' Pink Shirt Day Contest. Over 131 students showed off their creativity by submitting a design that illustrates BTPS' commitment to stand up against the injustice of harassment and bullying, especially against minorities and those of the LGBTQ community. Eva's design, "Kindness is a Universal Language," will be featured on the jurisdiction's official 2023 Pink Shirt Day shirt.
T-Shirt Order Information
Orders can be placed online at www.12thirtyfour.ca/campaigns - Pink Shirt Day.
All T-Shirts are $20.00. Payment options are Credit Card or E-Transfer.
Youth and Adult Sizing available!
All orders will be sent to 12 Thirty Four Marketing in Wainwright, AB. The shirts will then be sent to the necessary school via the van run. BTPS family orders will then be sent home via students. Community members who order will need to make arrangements to pick up their orders at 12 Thirty Four Marketing in Wainwright.
In the Order Notes section, please make sure to indicate your school.
PINK SHIRT DAY 2023 is Wednesday, February 22, 2023