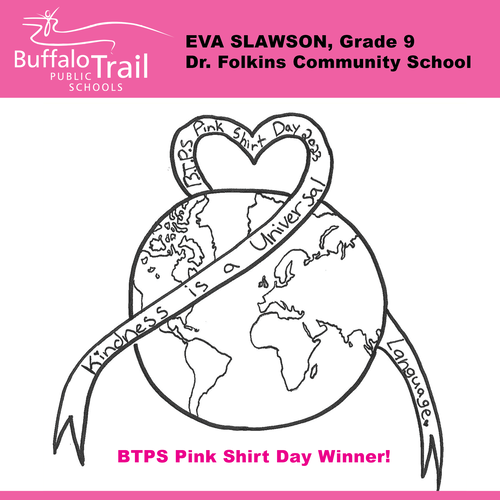 Dr. Folkins Community School's Grade 9 student, Eva Slawson, is the winner of BTPS' Pink Shirt Day Contest. Over 131 students showed off their creativity by submitting a design that illustrates BTPS' commitment to stand up against the injustice of harassment and bullying, especially against minorities and those of the LGBTQ community. Eva's design, "Kindness is a Universal Language," will be featured on the jurisdiction's official 2023 Pink Shirt Day shirt, which will go on sale before the celebration set for February 22, 2023. 
Honourable mention goes to E.H. Walter School Grade 6 student Hannah Inge and Marwayne Jubilee School's Grade 4 student, Sawyer Obchansky.
Schools with the highest number of participants included Provost Public School, Dr. Folkins Community School, and Amisk School.
Watch the winning announcement!
Thank you to all the students who participated!